Services
The Journey to Easter at ABC – via YouTube link
Palm Sunday
Linda Hayes will be preaching about the journey of a servant king, Jesus riding into Jerusalem
Monday – Thursday
Based on passages in the build-up to Easter, Jon will be using a different image every day as part of morning devotions to help us journey to the Cross.  These will be online, for people to have a devoted time of worship.
Good Friday
Jon will be preaching in our service this will be online, with the message centred around another image as we arrive at the Cross.
Saturday
Jon will share an online devotion helping us to embrace the silence on Holy Saturday
Easter Sunday
Matthew Skirton will be preaching during our online service on the journey to the empty tomb, capturing the moment when the disciples realised that Jesus had been raised from the dead.  Hallelujah!
Easter Sunday 6pm on Zoom (invite in email)
Celebrate our risen Lord with readings of praise and worship from scripture. Songs of worship being played, to which we can join in singing if we want to.  (Don't forget to press mute on Zoom!)
Check out our Easter Challenge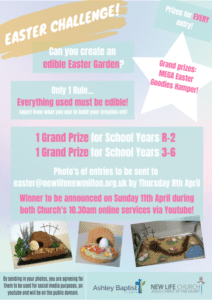 ---
Special Services
---
SERVICES
TIME
Furnace Celebration
First Sunday of the month at 6.00pm. Furnace is contemporary worship service with time for testimony and waiting on the Holy Spirit. All are welcome
Messy Church
Church for the whole family.
4th Sunday of the month
Communion
First Sunday morning of the month as part of the 11:00 am service. Second morning of the month as part of the 09:30am service and usually the third Sunday evening.
Afternoon Service
Every few months at 3.30pm incorporating some of the best-loved older hymns

followed by tea.

Baptism Service
As a Baptist Church we practice believers' baptism for those who love the Lord Jesus and want to follow Him in their lives. Baptism is by full immersion after making a life-long commitment to love and serve God.
Dedication & Thanksgiving Service
Parents who wish to bring their baby/child in thanksgiving to God can do so. This usually takes place as part of the morning service. Christian parents might want to go on to dedicate themselves to bringing their child up in a Christian home and as part of a Christian Church.
Accessible Services

Our 11am service is a suitable service to attend for those with learning disabilities.

Also, friends from Ashley Baptist, New Life and River of Life Churches working together provide an afternoon service for adults with learning disabilities at certain times throughout the year.  Please check with office for next date.